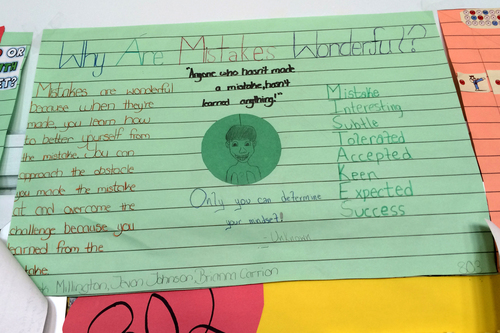 It's become the new buzz phrase in education: "Got grit?"

Around the nation, schools are beginning to see grit as key to students' success — and just as important to teach as reading and math.

Experts define grit as persistence, determination and resilience; it's that je ne sais quoi that drives one kid to practice trumpet or study Spanish for hours — or years — on end, while another quits after the first setback.

"This quality of being able to sustain your passions, and also work really hard at them, over really disappointingly long periods of time, that's grit," says Angela Duckworth, a psychology professor at the University of Pennsylvania who coined the term "grit" — and won a MacArthur "genius grant" for it.

"It's a very, I think, American idea in some ways — really pursuing something against all odds," she says.

Duckworth says her research shows grit is actually a better predictor of success than IQ or other measures when it comes to achievements as varied as graduating from West Point or winning the National Spelling Bee.

Even the Obama administration is now on the "grit" bandwagon. A 2013 report from the Department of Education laments that kids are learning to "do school," but aren't learning the skills they need in life.

But can grit be taught?
I vote yes! Find out what the author thinks on www.npr.org.